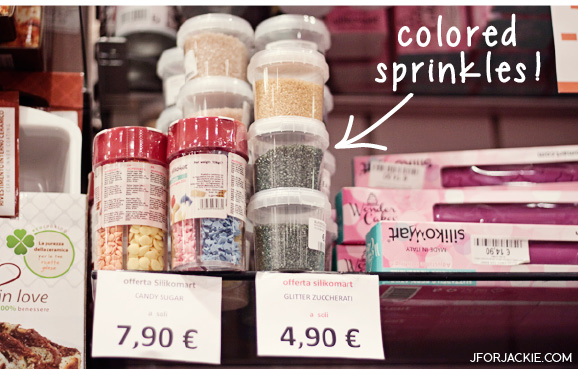 Sprinkles by Color
In a recent post, I spoke about individually separating colored sprinkles because I had yet to find custom colored sprinkles in Florence. I admit, I did not try that hard to find them… I just like doing things the hard way. ha! But, as luck would have it, we found a store this past weekend that stocked a selection of colored sprinkles.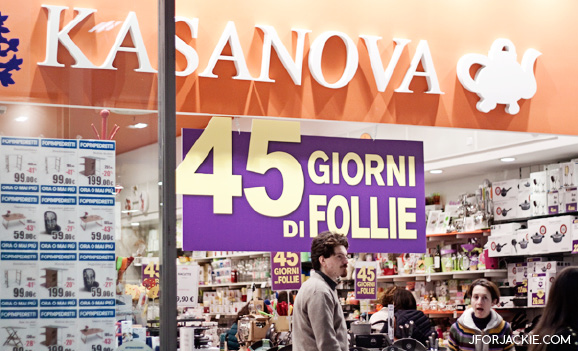 Kasanova
We found these cute shaped colored sprinkles at Kasanova, a kitchenware store located on the first floor of the I Gigli shopping center. They are labeled candy sugar and glitter zuccherati, their selection of colored sprinkles may not be that varied, but it's definitely worth a look. Moral of the story… no need to be insane like me, you can just go out and buy fun sprinkles at Kasanova!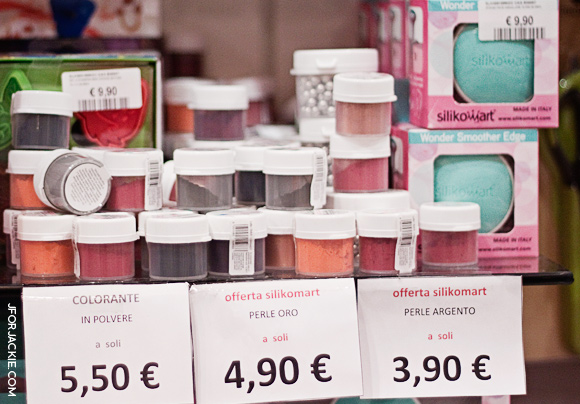 DIY Custom Colored Sprinkles
If you can't find the color you need, I am thinking it would be easier to buy white sprinkles and color them yourself. I saw that the Kasanova store also carries powdered food coloring (colorante in polvere) and here are three easy diy tutorials on making your own custom colored sprinkles:
1. Custom-colored Sprinkles with powder coloring
2. Color your own Sprinkles with gel coloring
3. Sprinkles DIY custom-colors
If you find pretty colored sprinkles in Florence, please let me know and I will add it to my list!