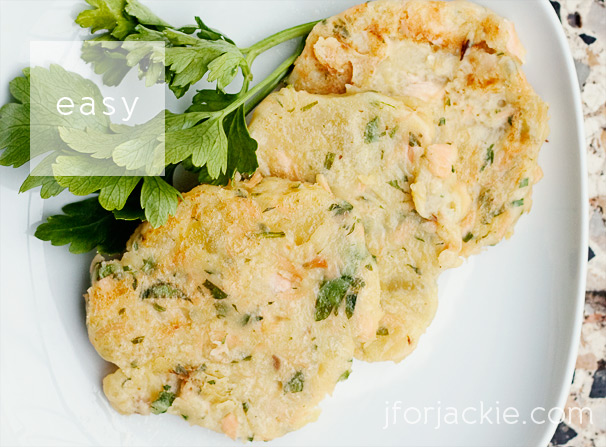 This delicious recipe comes from the book, Kochen für die Kleinen by Dagmar Reichel.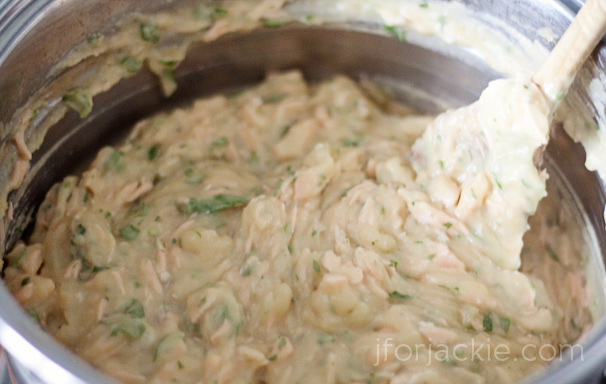 Salmon and Potato Patties
The official name of this recipe is Feine Fisch-Küchlein aus Kartoffeln und Lachsfilet! Yes, that is a mouthful…henceforth, you will be known as Salmon and Potato patties. Thanks for the recipe and translation Chelsea! :)
Salmon and Potato Patties
Ingredients
150 grams floury potatoes (ie: patate a pasta bianca)
75 ml vegetable broth
75 grams Salmon Filet
1 small egg
75 grams flour
1 teaspoon lemon juice
1/2 teaspoon medium spicy mustard*
1 tablespoon parsley
Salt
2 tablespoons extra virgin olive oil
Instructions
Peel potatoes and cut into small cubes. Bring the vegetable broth to a boil and add the potatoes. Cover and cook for 8 minutes on medium heat.
Wash Salmon, pat dry and debone. Place over the potatoes and cover. Cook for 5 minutes.
Remove pot from heat, keep covered and leave to cook for additional 5 minutes. Remove fish from the pot.
Mash potatoes in the remaining broth. Mix in the egg, flour, lemon juice, mustard and parsley. Salt to taste.
Flake salmon and add to the potato mixture. Mix together.
Heat oil in pan. Scoop out about 2 tablespoons from the potato mixture and add to pan and flatten. Heat on each side 3-4 minutes
Notes
*Since I was feeding this to Julienne for the first time, I omitted the mustard.
http://jforjackie.com/2013/06/salmon-and-potato-patties/
j for jackie copyright © 2014. all rights reserved.