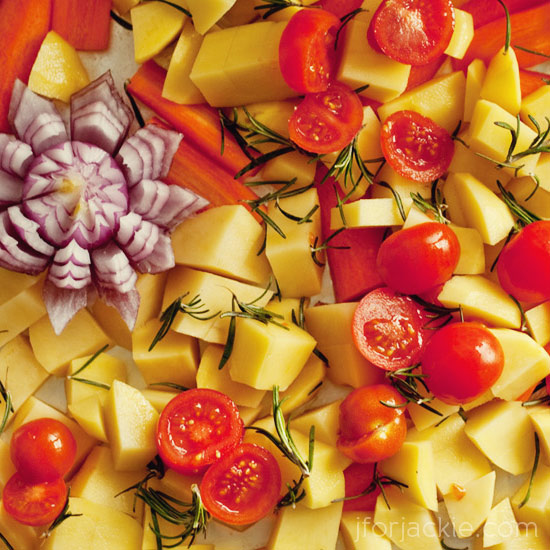 Today's idea is Roasting!
Fast preparation time…that is what I'm talking about. There is an Italian cooking show we like watching called I menu di Benedetta (18.50 on LA7 or 20.10 on LA7D). At the end of every episode, she cooks up a dish with a countdown timer set for seven minutes. Yes, I know — 7 minutes! Take that Rachael Ray!
Although, I pick up tips and fast meal ideas from the show, here is something I learned not from Benedetta, but from my food loving cohort, Chelsea. She told me (what at the time was a foreign concept) if you don't have time: peel, chop and roast it! Simple right? But, utter genius.
We pair the roasted vegetables with rice. Having rice ready-to-eat is another trick when in need for a quick and easy meal. Rinse rice, pour water and click cook on the rice machine. My recommendation: Zojirushi rice cookers.
Roasted Carrots & Potatoes with Fresh Rosemary
Ingredients
2-3 medium carrots, peeled and chopped
1 large onion
5-7 potatoes, peeled and cubed
fresh or dried rosemary
salt to taste
extra virgin olive oil
Instructions
Preheat the oven to 180°C/350°F
Peel and chop a couple of carrots and potatoes, cut up a handful of cherry tomatoes and sprinkle on a lot of fresh rosemary.
If you do not have fresh herbs lying around, dried ones work too. Layer everything on an oven tray, drizzle some extra virgin olive oil, salt to taste and off you go.
Roast for about 40minutes (time may vary depending on your oven), lower heat to 165°C/320°F for the last 10 minutes.
http://jforjackie.com/2013/04/quick-easy-meal-ideas-for-busy-moms-01-roasting/
j for jackie copyright © 2014. all rights reserved.
Special Note:
Mix it up with beets, sweet potatoes, brussel sprouts, broccoli and red bell peppers.

Happy roasting!
(photos by jackie ahn)