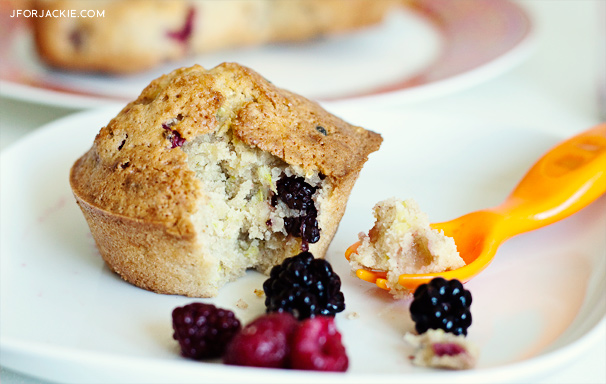 adapted from Allrecipes
Get in your veggies the yummy way
It can be hard to get your kids to eat their veggies, why not hide them in a batch of delicious mixed berry zucchini muffins! We whipped up some of these muffins and I swear you cannot even tell that there is zucchini in this recipe!

Mixed Berry Zucchini Muffins
Ingredients
1-1/2 eggs, lightly beaten
1/2 cup coconut oil
2 teaspoons vanilla extract
1 cup white sugar
1-1/2 cup shredded zucchini
1-1/2 cups all-purpose flour
1/2 teaspoon salt
1/2 teaspoon baking powder
2 teaspoons ground cinnamon
1 cup mixed berries
Instructions
Preheat oven to 175°C (350 °F). Lightly grease muffin tins.
In a bowl, whisk together the flour, salt, baking powder, and cinnamon.
In another large bowl, beat together the eggs, oil, vanilla, and sugar. Fold in the zucchini.
Beat in the dry ingredients into the mixture.
Gently fold in the berries.
Transfer to the prepared muffin tins.
Bake 35 minutes in the preheated oven, or until a knife inserted in the center of a loaf comes out clean.
Cool 20 minutes in pans, then turn out onto wire racks to cool completely.
Notes
* If you cannot find fresh berries, you can always use the frozen ones and they are still yummilicious! Just defrost them before use.
http://jforjackie.com/2013/08/mixed-berry-zucchini-muffins/
j for jackie copyright © 2014. all rights reserved.