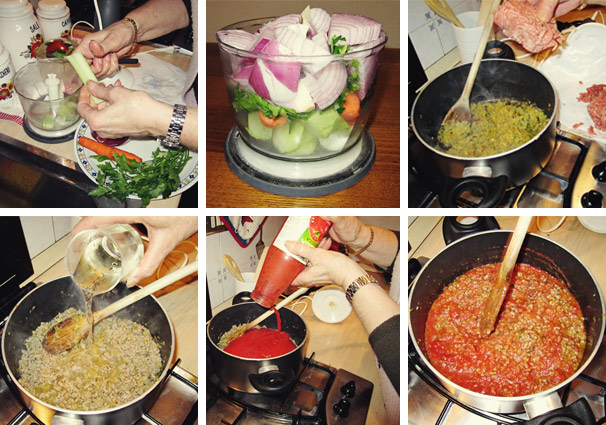 Photos by Allison Bell
Homemade Tuscan Ragù Sauce
Meat sauce is made regularly in Italian households; it is one of their staples. Pasta al Sugo is a comfort food and my mother-in-law rarely sends me home without a small container of fresh meat sauce to use during the week. The secret to a good meat sauce is how long it cooks. If you see the sauce getting too dry before 2 hours you can add a little more warm water.
Sugo Toscano / Tuscan Meat Sauce
Ingredients
1 medium carrot
1 medium red onion
2 stalks of celery
4 tbs of chopped fresh parsley
½ cup of extra virgin olive oil
½ kilo of ground beef (1.1 lbs)
¾ cup of white wine
24 oz. bottle passata di pomodoro*
Water
Salt and pepper to taste
Instructions
In a food processor chop your onion, celery, carrot, and parsley.
Sauté vegetables, with oil, in a medium size sauce pan for about 10 minutes, stir frequently.
Stir in ground beef.
Once the meat is brown add the wine. Cook until completely evaporated (approx.10 to 20 minutes)
Add the passata di pomodoro and stir. Bring to boil.
Fill the empty passata di pomodoro bottle with warm water, shake and pour into your sauce.
Add salt and pepper and bring back to boil. Turn heat down low and cook for at least 2 hours.
Serve with favorite pasta or grain, or use to make Lasagna.
http://jforjackie.com/2013/07/sugo-toscano-tuscan-ragu-sauce/
j for jackie copyright © 2014. all rights reserved.
* Passata di Pomodoro (strained tomatoes) is one of the only ingredients my mother-in-law uses out of a jar. It is a key ingredient to many sauces, vegetables, and even some meat dishes. The Italians who are fortunate enough to have an outdoor garden grow their own tomatoes in the summer in order to make and jar enough passata di pomodoro for the year.