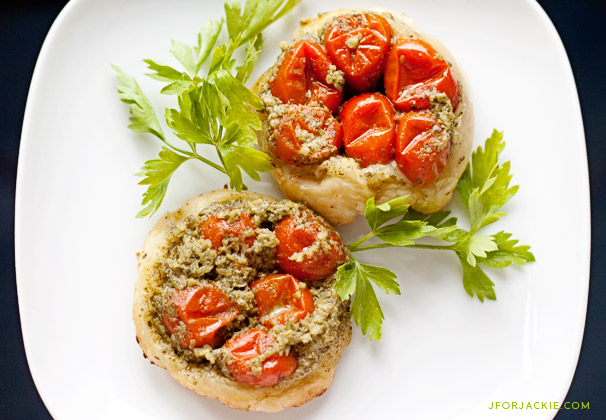 The only special equipment needed for this pesto appetizer tart recipe is a muffin tin!
Ingredients
1 cup of pesto
1 pasta sfoglia (pre-made pastry dough)
12-15 halved, seeded cherry tomatoes
Capers (optional)
1 teaspoon of extra virgin olive oil
Salt to taste
Instructions
Preheat oven to 180°C / 350°F.
Slice cherry tomatoes in half and scoop out the seeds.
Mix the pesto in a bowl with some capers and the extra virgin olive oil. Salt to taste if necessary. Fill the seeded tomatoes with pesto.
Roll out the dough and let it rest on the counter for 5 minutes, then cut out circular rounds of dough to make the base of the tart.
Place about 5-6 halved tomatoes curved side down in each muffin cup.
Add a bit more pesto on top of the tomatoes and then place one dough round on top. Press the dough down a bit into the muffin cup so that the rim touches all sides.
Bake for about 10-15 minutes until the dough has browned on the sides.
Let cool 5 minutes, then place a large plate over the muffin tin and flip the tarts out!
Serve warm.
http://jforjackie.com/2013/07/pesto-appetizer-tart/
j for jackie copyright © 2014. all rights reserved.