I was asked this question by a newbie Polyvore member @rayrayhatcher: :) so how do you get so many followers?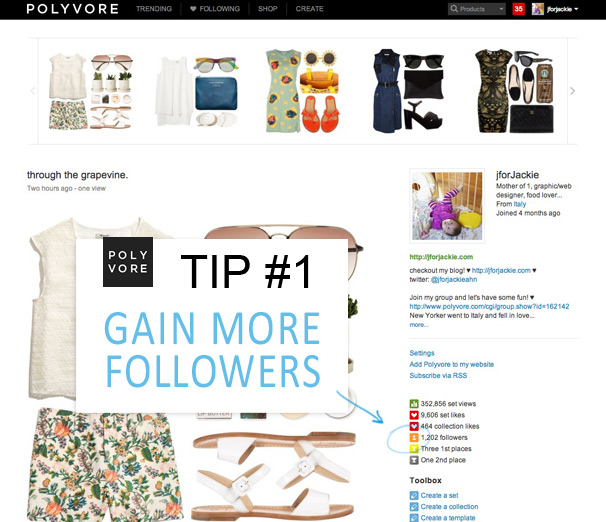 I joined Polyvore about four months ago and I have to say it is the website I wake up to and the one I check before going to sleep. I know…it's a sick sick addiction. At this point, every morning Davide will ask, how many likes today? And I know he's talking about my sets on polyvore haha, he's my biggest fan! :) I heart you husband.
In the last four months since joining, these 7 steps are what I believe helped me to gain more followers and get more noticed on Polyvore.
7 Steps to success on Polyvore
Be friendly
Create interesting/unique sets
Like a lot of sets and items
Follow a lot of people (especially support the people who like your items or sets)
Comment often on sets you really like and tag people in response
ENTER CONTESTS! it's important that you get exposure for your sets :)
Create a group and keep up with it
I think the key is get really active on Polyvore!!! The more you do, the more people see your profile and the higher your chances are that people will like your sets and follow you. Get inspired and stay on top of new trends by checking out the trending reports by the Polyvore team. You'll soon get in the groove and people will notice you in no time! Focus on making some great sets and liking a lot of items. This will initially help you build the foundation, then you can start using these items to create the sets that you will use to enter contests…see the cycle?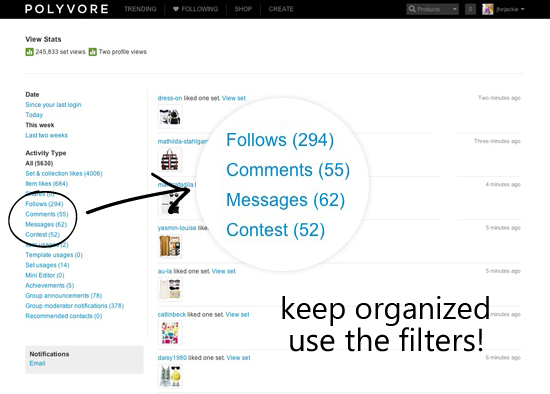 Don't forget to use the filters in the activity page — this will help you keep on top of everything.
Hope this helps @rayrayhatcher, have fun and be inspired!