Watermelon the perfect summer fruit
We can't get enough of this juicy fruit, not only are watermelons full of nutritional value, they are just so darn refreshing! This smoothie all'anguria (watermelon) recipe is easy to make and can be enjoyed by the whole family – no added sugar!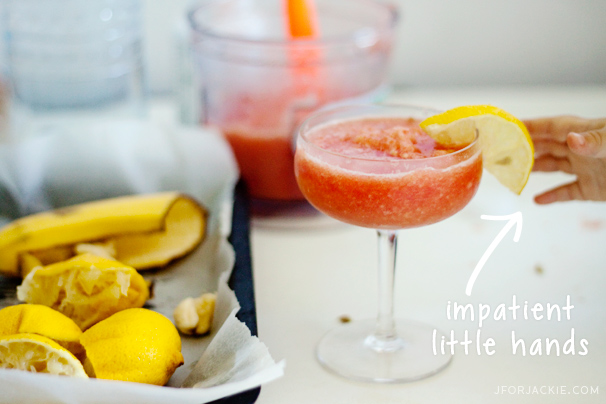 Jackie's Smoothie all'Anguria (watermelon)
Ingredients
3 cups of cubed watermelon (seeds removed)
1 tablespoon of water
2 small lemons
1/2 large banana
Instructions
Cut watermelon into cubes, remove any seeds and place on a baking sheet. Freeze the tray for at least an hour.
Blend watermelon cubes with 1 tablespoon of water* and add the banana (break the banana into smaller pieces).
Squeeze and add the juice from the lemons. Continue blending the mixture until you have the consistency you want.
Notes
*Water - if the mixture is too thick, you can add a little more water while blending the watermelon - but, we like our smoothies thick so we don't add more than 1 1/2 tablespoons.
http://jforjackie.com/2013/08/smoothie-allanguria-watermelon/
j for jackie copyright © 2014. all rights reserved.
That's it! Pour and drink right away.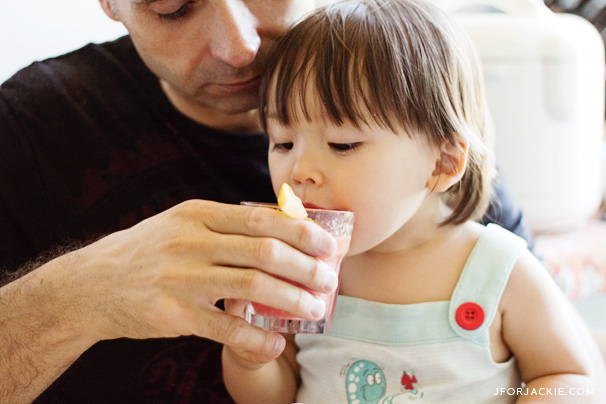 Julienne loves Smoothie all'anguria
Today, Julienne devoured her portion and was asking for more…too bad daddy ate the rest. Don't worry we'll make more tomorrow! ;)
Read about the health benefits of watermelon.