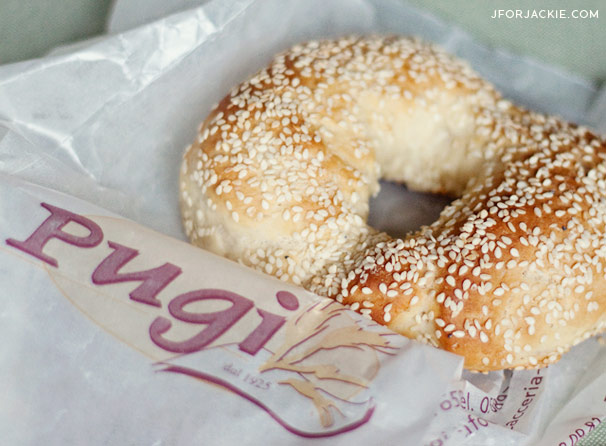 Focacceria Pugi Sells Bagels
Found a new bagel place in Florence! From a choice of poppy and sesame, Julienne chose the sesame bagel and it was pretty good. We bought this unexpected treasure at the Forno Bistro Pugi for €1,20 (price based on weight). Okay, to be honest, they weren't actually selling them as bagels. But heck it looks like a bagel and tastes like a bagel so, for me… these are Pugi sesame bagels!
Growing up on Long Island (NY), I have eaten my share of delicious bagels and the hard truth is that all the bagels in Florence can't exactly replicate that extra chewy texture that I love and crave. Now, this doesn't mean that the bagels in Florence are bad. Me, I am just a bonafide bagel snob!
I have adjusted my expectations and when the choices are slim, any bagel is a good bagel. Just don't eat them cold. Toasted up with a little veggie cream cheese on top, oh yea we're talking tastebud heaven. Mmm… bagels.
Where to find Bagels in Florence
Mama's bakery (Via della Chiesa, 34r)
Sugar & Spice (Borgo la Croce 15r)
The Diner (Via dell'Acqua, 2)
Il Panino Tondo (Via Montebello, 56R and they also deliver)
Snack Bar Anna (Via Dè Ginori, 26/R)
Forno Bistro Pugi (Via Giampaolo Orsini, 65). I can't promise that all the Pugi bread shops in Florence will sell these, but if you go and find them, please let me know and I'll update this post!
The Lion's Fountain Pub (Borgo Albizi 34/R)