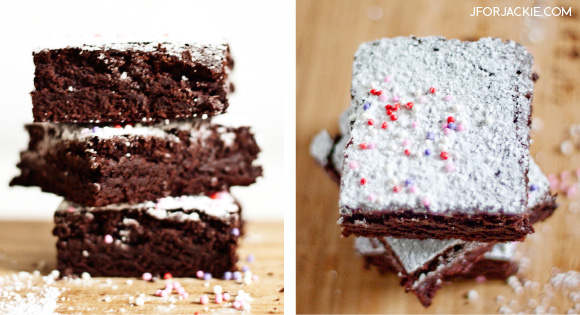 Chocolate Brownies Treat
You know that saying, the way to a man's heart is through his stomach – not sure if there is much truth to this for all men, but it is definitely true for mine. Davide is a die-hard baked good lover, so this chocolate brownies recipe is perfect for him!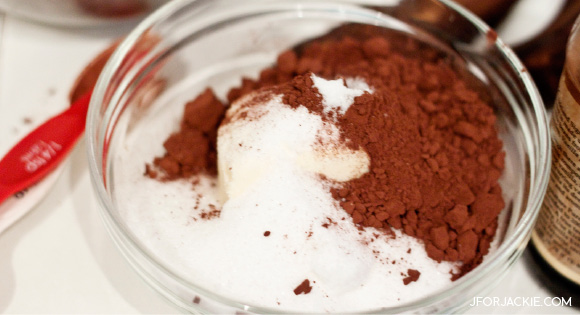 Easy One Bowl Brownie Recipe
Instead of running out and buying a gift, why not try this easy one bowl chocolate brownies recipe and win some handmade-with-love points with your Valentine. This would also be a tasty treat to bring along on an anti-Valentine's celebration with friends. Who doesn't appreciate a little chocolate!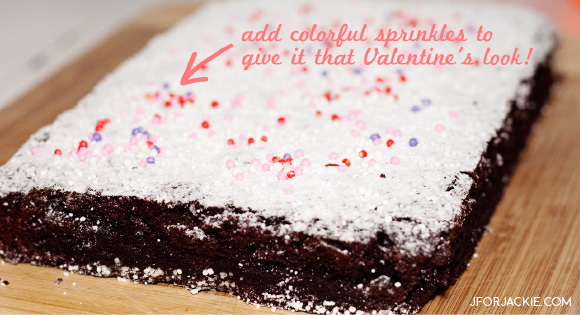 Valentine's Day Baked Gifts
I added some Happy Valentine's spirit to the chocolate brownies by sprinkling some powdered sugar and sprinkles on top. Living in Italy, it is difficult to find specific colored sprinkles, they usually come in a generic rainbow colored mix. So… yes, I had to individually separate out the red, pink, white and lilac ones – if that's not love, I don't know what is! ha ha.
Here is a cute way to package up your brownies.
What do you usually gift your loved ones for Valentine's day?
Valentine's Chocolate Brownies Treats

Ingredients
10 tablespoons (140 grams) unsalted butter
1 1/4 cups (250 grams) sugar
3/4 cup plus 2 tablespoons (65 grams, though some brands may weigh more) unsweetened cocoa powder (I used Esselunga Bio Cacao Amaro)
1/4 teaspoon salt
1/2 teaspoon pure vanilla extract
2 large eggs, cold
1/2 cup (65 grams) all-purpose flour
Instructions
Position a rack in the lower third of the oven and preheat the oven to 325°F. Line the bottom and sides of an 8×8-inch square baking pan with foil, leaving an overhang of 2 inches on all sides. (I like to grease the sides with butter.)
Melt the butter in a medium heatproof bowl in the microwave for approximately 1 minute (20 second bursts), until fully melted. After each 20 second burst, open and stir the butter.
Add the sugar, cocoa, and salt to the butter and set the bowl in a wide skillet of barely simmering water. Stir until the butter is melted and the mixture is smooth. Remove the bowl from the skillet and set aside briefly until the mixture is only warm, not hot.
Stir in the vanilla with a wooden spoon. Add the eggs one at a time, stirring vigorously after each one. When the batter looks thick, shiny, and well blended, add the flour in slowly and stir until you cannot see it any longer. Beat vigorously for 40 strokes with the wooden spoon or a rubber spatula.
Spread evenly in the lined pan.
Bake until a toothpick (I like to use a long wooden chopstick) plunged into the center emerges slightly moist with batter, 30 to 35 minutes.
Let cool completely on a rack. (It will be easier to cut straight lines when it's completely cooled)
Lift up the ends of the foil liner, and transfer the brownies to a cutting board. Cut into squares or desired shapes.
http://jforjackie.com/2014/01/valentines-chocolate-brownies-treats/
j for jackie copyright © 2014. all rights reserved.