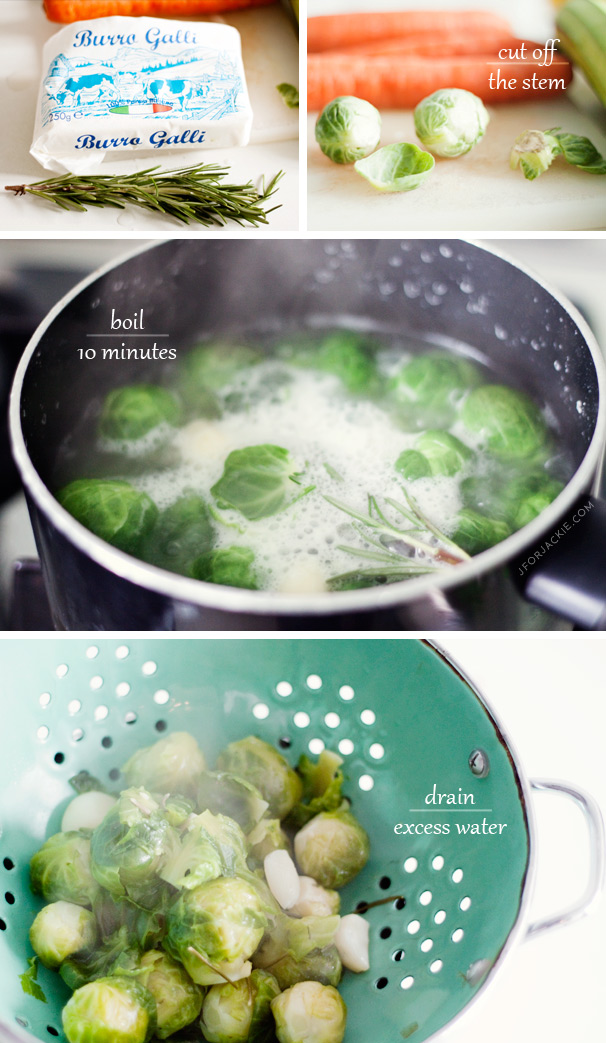 Brussel Sprouts are in season
Uncle Calvin was making us jealous the other day when Julienne and I saw him sautéing up some yummy brussel sprouts on Skype…so, we obviously had to go out and buy some for ourselves. These tiny cabbage sprouts are a close runner up, trailing right behind my all-time favorite veggie mr. broccoli!
Can I have some more
We can safely say that this little girl takes right after her mamma – I think she ate 12 out of the 16 little sprouts! I think the only thing we need to worry about is how much gas she will produce later today ha ha.
Here is my super fast and easy-to-make Brussel Sprouts recipe, sure to get your little ones to eat their veggies! Try it out and let me know your thoughts.

Buttery Brussel Sprouts with Rosemary and Garlic
Ingredients
15 - 18 brussels sprouts
1 1/2 tablespoons butter *
3 cloves of garlic (peeled and smashed with the flat of a knife)
1 large sprig of fresh rosemary
salt
water
Instructions
Rinse the brussels sprouts with lukewarm water to remove any dirt. Remove and trim just a bit off the stem. Rinse and drain.
Fill a small pot with lightly salted water and bring to a rolling boil**. Add brussels sprouts, butter, garlic and rosemary and boil about 10 - 15 minutes***. Cover the pot, leaving a slit for the steam to escape.
Drain and serve immediately.
Notes
* There are so many different butters to choose from here in Italy, just as vast as their milk selection. Burro Galli (pictured above) is one of my favorites, nice full-flavored butter, perfect for cooking and baking. ** This recipe can also be made by steaming the brussel sprouts instead of boiling. Just add all the ingredients together and steam for about 5-10 minutes. *** My family likes eating their brussel sprouts a bit more soft then crunchy, so we boil them for about 10 - 12 minutes, you can try to cook them for 6-10 minutes if you like them just a bit tender.
http://jforjackie.com/2013/10/buttery-brussel-sprouts-rosemary-garlic/
j for jackie copyright © 2014. all rights reserved.