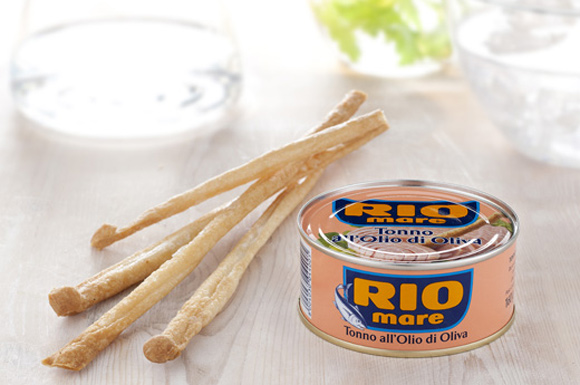 Image via Rio Mare
Who doesn't love Tuna?
I think one of the things I found to taste better here in Italy was definitely the canned tuna. Anytime I travel back home, I bring cans and cans of tuna for family – especially my dad, he likes eating it straight out of the can! ;)
We have tried a lot of brands and our favorite canned tuna in Italy is hands down the Rio Mare tuna in olive oil! There are varying sized cans and just think, the larger the can, the better the tuna.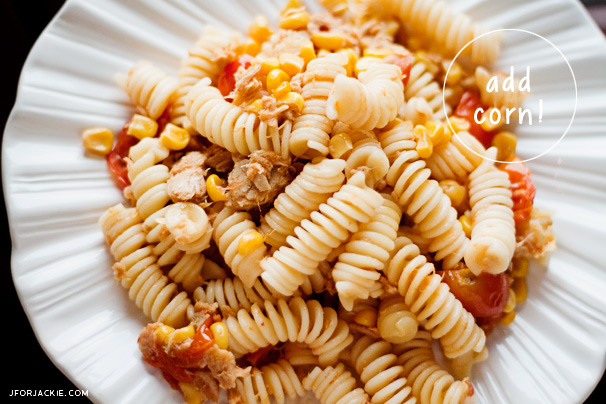 Simple Tuna Pasta Recipe
This is a delicious way to throw together a quick meal with 2 cans of tuna…the corn sweetens the overall flavor of the dish. Julienne loves this pasta!
Quick and Easy Tuna Pasta Recipe with Corn
Ingredients
1 1/2 cup halved cherry or grape tomatoes
5 garlic cloves
240 grams of canned tuna (2 medium sized cans)
325 grams can of corn
350 grams of pasta
Fresh sage *optional
Extra virgin olive oil
Salt
Instructions
Add an abundant amount of extra virgin olive oil in a pan on medium heat, smash garlic with a knife leaving the peel and add in to the pan. Stir frequently to prevent the garlic from burning.
Rinse and halve tomatoes. Add to the garlic and oil, stirring frequently.
Drain the tuna and corn, add to the pan and cook on medium low heat for 10 minutes.
Add fresh sage and salt to taste.
Simmer for another 15 minutes, stirring occasionally.
While the tuna mixture simmers, heat salted water and boil the pasta according to the directions.
Drain the pasta and add it to your tuna mixture and stir together.
Serve warm.
http://jforjackie.com/2013/07/favorite-canned-tuna-in-italy/
j for jackie copyright © 2014. all rights reserved.
Notes: This also tastes good as a cold pasta dish, so take it along on your next picnic trip.
Ever since Julienne started eating this pasta, I don't add any additional salt to the recipe and it still tastes great! Try a lighter version and use less salt. :)