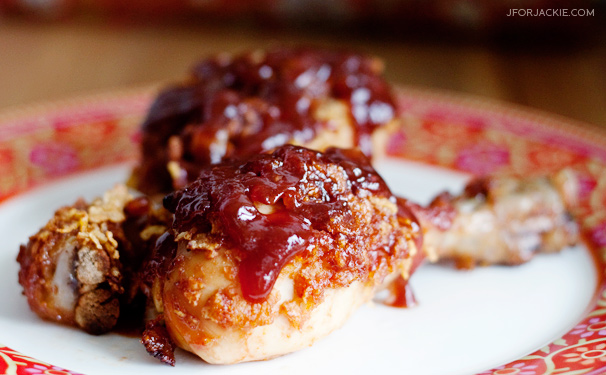 Created a simple and tangy barbecue chicken recipe with ingredients I had around the house. Try it out and let me know your thoughts!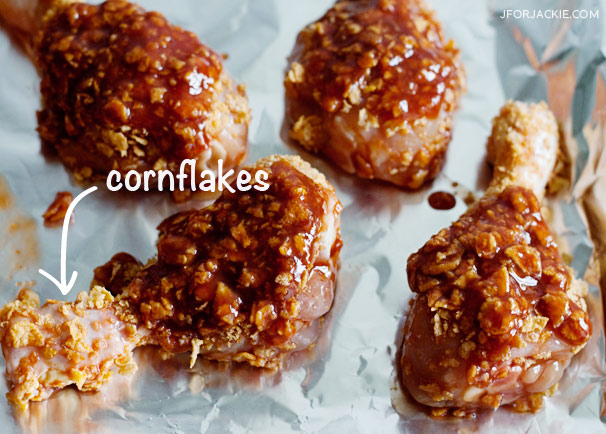 Secret Ingredient= Cornflakes
I like using crushed up cornflakes (or panko) instead of regular breadcrumbs in chicken recipes. It gives it a really nice crunch and I think it adds to the overall flavor.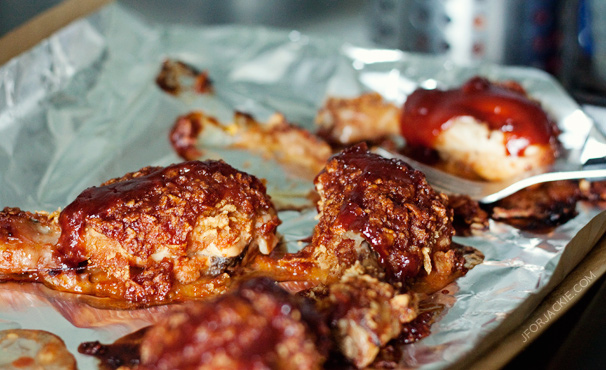 Brown Sugar Barbecue Chicken Drumsticks
Ingredients
6 chicken drumsticks (

fusi di pollo

)
1 cup cornflakes

Barbecue Sauce

1 cup ketchup
1/4 cup mirin
2 tablespoons balsamic vinegar
1 tablespoon white wine vinegar
1/2 cup packed brown sugar
Instructions
De-skin chicken drumsticks* and soak in warm salt water bath.
Crunch up the cornflakes and set aside in a large bowl.
Heat on low in a medium saucepan the ketchup, mirin, sugar and both vinegars. Stir frequently. Once the mixture is smooth, turn off heat. Set aside 1/4 cup of sauce.
Preheat oven to 190°C (350°F) and line rimmed baking sheet with aluminum foil.
Rinse the chicken and place in a large bowl. Toss the drumsticks with half the barbecue sauce mixture and dip each one into the cornflake crumbs; coat all sides.
Place on baking sheet and drizzle the remaining sauce over each drumstick.
Bake chicken until opaque throughout, 40-45 minutes, rotating sheets.
Notes
* Tip from my aunt: easy way to skin these slippery drumsticks is to take a paper towel and use it to pull off the skin. It will make your job a lot easier, try it!
http://jforjackie.com/2013/06/brown-sugar-barbecue-chicken-drumsticks/
j for jackie copyright © 2014. all rights reserved.