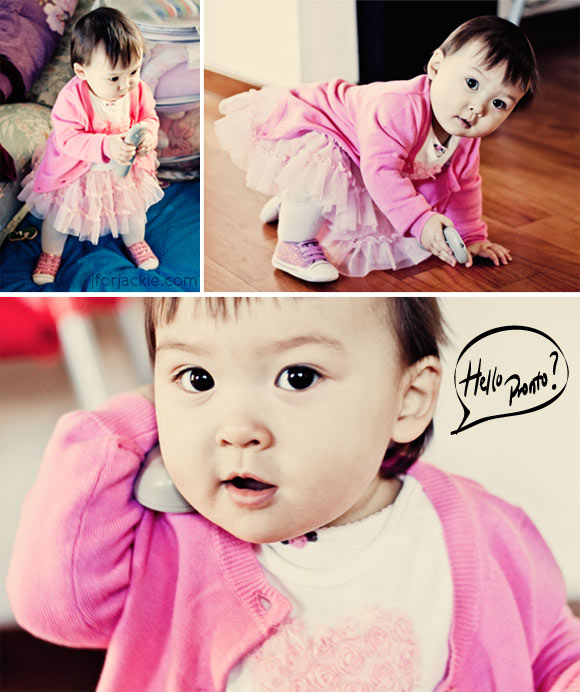 remote control OR julienne's cellphone? "auntie, is that you?"
Julienne turned one and all of a sudden started learning a bunch of new things in one big swoosh: walking, saying bye-bye and giving kisses. The one thing that she was doing that we did not realize until much later was when she started to pretend play with her objects around the house. It started with picking up her wooden pear, turning it over in her hands and holding it up to her ear. Is it awful that I just thought she was being silly? We really did not take notice until, she did the same thing right when Davide picked up a call on his cellphone! d'oh slap your head moment — ohhh i get it…that is your phone!  Now it's been non-stop finding and offering her all kinds of objects and toys to encourage her to pretend play.
After researching the topic on promoting toddler pretend play, I found some great tips that we have tried out with Juli. Here are some of the things that worked the best with her and we were able to easily find objects around the house that helped engage her in more pretend play.
We currently separate all the toys and objects into six different containers…before, in one tall chest Julienne would forget about the toys that were hiding at the bottom. These containers help to keep some semblance of organization and Julienne loves opening & closing the drawers!
juli's pretend play ideas and props:
Leftover boxes (even candy boxes), shoe boxes and tupperware containers of various shapes and sizes.


Julienne loves her heart-shaped BACI chocolate box and has been playing with it since valentine's day (thank you husband!). Tupperware containers are great, especially if you find yourself at a family/friend's house and you forgot to pack a toy. I stuck my cellphone in a closed tupperware once and she played for 20 minutes straight…in baby time, that's a lot!

Play dress-up, old clothes, slippers, scarves and hats to try on.

One of Julienne's favorite games is to steal whatever is on your head and tries to stick it on her head! We rummaged our closet for some of our old hats and scarves to give her…the only con, she yanked off embellishments and ruined a few scarves. Now we only share what we don't mind parting with forever. : )

Kitchen and household items.

Lucky Juli received a great toy kitchen (thanks aunt Daniela and family!) for her 1st birthday and she loves playing with all the various kitchen tools and drawers.

Tool set with hammer and screwdriver!

My husband is a master at fixing things and when he saw this at ikea, of course he HAD to buy  it.  It was this cute velcro tool belt that looks so adorable on Juli and it cost less than 7 euros.  We also picked up some adorable fake food.

Stuffed dolls, animals and puppets.

Juli and I love holding tea parties and feeding all of her stuffed toys using her stacking cups toys (thank you Shawna and K.C.) and her own water bottles. I think she's like me and loves eating even if it's fake eating!
Further reading on the topic:
Basic Abilities and Play Preferences: Birth to Age 12
Toddler Milestone: Pretend Play
25 Easy pretend play ideas
(Photos by Jackie Ahn. Julienne's clothing: First Impressions Tulle Tutu Bodysuit from Macys, long sleeve white onesie by Carter's, cardigan from JCrew and white tights from H&M.)